THỐNG KÊ TRUY CẬP
Main
»
2014
»
Tháng 4
»
16
» Exam problems
---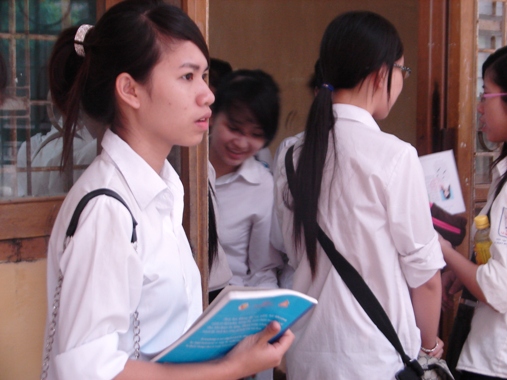 Students feel uneasy about unfamiliar way of raising exam questions
VietNamNet Bridge – The decision by the Ministry of Education and Training (MOET) on shortening the duration of the philology exam to 120 minutes, and a warning about the new method of raising exam questions, have put high-school students on tenterhooks.
A revolution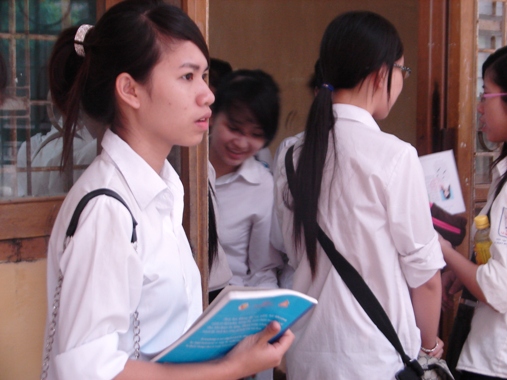 The unexpected statement by MOET has been described as a "thunderbolt". Students complain that they have only seven more weeks to prepare for the new conditions. Meanwhile, teachers have warned that MOET should be prepared to see a drop in the scores of the finals if it persists in implementing these drastic changes.
A literature teacher of a high school in Hanoi commented that MOET seemingly has decided to "revolutionize" the examination mechanism.
Vietnamese teachers have been criticized for their current teaching methods as not fostering creativity in students. During literature lessons, critics say, teachers impose their viewpoints upon students, while at the same time discouraging students from expressing their own points of view.
It is argued that the end result is one that is counterproductive for a modern education system: the highest marks are awarded to those students who are good at rote learning, while the more creative find themselves paying a price for their willingness to challenge the received wisdom.
It is on this basis that MOET has decided to adopt a new form of exam. Philology exam questions are to be comprised of two parts, reading comprehension and written essays. Of these, reading comprehension, to be designed in accordance with PISA (the Programme for International Student Assessment) guidelines, will help to better assess students' real abilities.
What will happen?
The paradox is that while many educators believe MOET is moving in the right direction by upending an antiquated education system, they are at the same time worried that it's all happening too fast, and that the shock will be difficult for many students to absorb.
At a recent meeting with MOET officials, this concern was repeated by high school teachers, who said that they "advocate the ministry's decision, but with worries". They suggested it would be better for MOET to set up a plan with detailed steps to be taken over time to carry out the "revolution". Drastic, sudden changes may adversely impact those students who only have a short time to prepare for the exam.
Hoang Van Can, Deputy President of the HCM City Education University, commented that 120 minutes would not be enough for students to demonstrate their creativeness and abilities. Meanwhile, students have been preparing for the 150-minute exam for the last several months.
Pham Thi Hue from the Nam Dinh City Education and Training Department also said it will take time for students to prepare the necessary skills to do their exam work within a 120 minute limit. The two months remaining until the exam takes place is just not enough time, she argues. "The students cannot be fully prepared for the exam," she said.
Meanwhile, Nguyen Thi Huong from the Lao Cai provincial Education and Training Department, warned that if the issues presented in the exam questions are unfamiliar, the questions will be too difficult for the majority of students - that is, those at the average learning level.
Van Chung
Bản tin Tiếng Anh | Views: 400 | Added by: dangthanhtam | Rating:

0.0

/

0