THỐNG KÊ TRUY CẬP
Main
»
2014
»
Tháng 1
»
24
» Foreign languages
---
7:00 AM
Foreign languages
Foreign languages no longer compulsory subjects for finals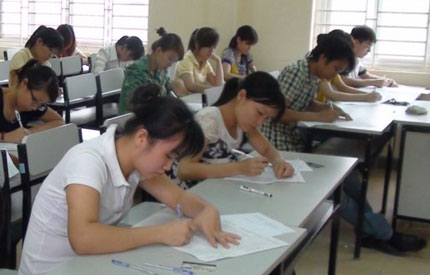 VietNamNet Bridge – The Ministry of Education and Training (MOET) has decided that foreign languages would not be the compulsory exam subjects in the 2013-2014 finals.
Students would have four exam subjects, including two compulsory subjects – math and literature, and two optional subjects-physics, chemistry, biology, geography or history.
This means that foreign languages would no longer be a compulsory exam subject as it was in the last few years.
However, students still can attend the foreign language exam to get bonus marks. The bonus marks would be counted on when considering students' learning records.
For example, students would get 2 marks more for the finals' results, if they get 9 marks or higher from the foreign language exams, 1.5 bonus mark if they have 7.0 and 1 bonus mark if they have 5.0 and higher.
The plan by MOET on excluding foreign languages from the list of final exam subjects (both compulsory and optional) has caused a strong controversy among the educators.
Explaining the intention, MOET said that a lot of problems still exist in the teaching and learning of foreign languages at general schools. Meanwhile, the students in rural and remote areas don't have the advantages like the urban students, which has led to the big difference in the foreign language skills of rural and urban students.
However, foreign language teachers have argued that this could not be seen as a reasonable explanation. The problems in foreign language teaching and learning need to be settled instead of canceling foreign language exams.
They also pointed out that once students don't have to attend foreign language exams, they would not spend time on learning foreign languages.
Dr. Le Thi Chinh, Headmaster of Pham Van Dong High Quality Secondary and High School, has commented that the MOET's decision is "unreasonable."
In fact, MOET once attempted to remove the foreign language exam. However, the plan was then canceled since it faced the strong opposition from educators.
"This is a move that comes contrary to the country's tendency of more deeply integrating into the world," Chinh said.
Chinh said she heard from MOET that the current exam mechanism has become backwards, which was the reason behind the ministry's decision to stop foreign language finals.
"However, we should discuss whether to renovate the exam mechanism, not discuss whether to organize foreign language exams," she said.
An English teacher of a high school said the MOET's plan, by the nature, is an action that spoils the national program on teaching and learning foreign languages by 2020, which was approved by the Prime Minister.
Nguyen Thuy Duong from Nguyen Tat Thanh Secondary and High School also commented that this is an unreasonable decision, especially when Vietnam is pushing up the national program on foreign language teaching.
According to Chinh, students would only learn better if they have to attend the exams.
"There are only several hours for foreign language lessons every week. If the foreign language exams are removed, students would neglect the subject," she warned.
The finals would come in four months, expected in early June, 2014.
Chi Mai
Bản tin Tiếng Anh | Views: 266 | Added by: dangthanhtam | Rating:

0.0

/

0