THỐNG KÊ TRUY CẬP
TRANG CHỦ
» Luyện viết Tiếng Anh
---
TOPIC: Write a letter to thank someone for a birthday present which has come just at the right time and pleases you very much. Your writing should be approximately 120 words.

Dear uncle Ryan,
How have you been lately ? I
had
a wonderful birthday party with my friends and family
last week
. I also received a lot of presents, including yours. I really appreciate the fact that although you
were being
away on business, you still
remembered
my birthday and
sent
me a gift. Thank you so much for your present as well as your kindness. When I
opened
your gift, I
was
very surprised and happy BECAUSE YOUR PRESENT
WAS
THE VERY THING THAT I
HAD WISHED
FOR . WHAT a lovely and beautiful alarm clock it was AND I
liked
it so much . Frankly speaking, it
...
Xem thêm
TOPIC:
Last month you had a holiday overseas where you stayed with some friends. They have just sent you some photos of your holiday. Write a letter to your friends In your letter:
- thank them for the photos and for the holiday
- explain why you didn't write earlier
- invite them to come and stay with you
Write at least 150 words.

Dear David,
Thank you so much for the lovely photos and for the wonderful holiday in France last month. I enjoyed myself a lot and honestly, it was the best holiday that I had ever had. I 've been grateful for WHAT YOU DID FOR ME DURING MY FIVE -DAY stay in your house . If it hadn't been for your help, I would have had difficulty finding SUCH a decent accommodation AND WOULDN'T HAVE HAD A CHANCE TO ENJOY THE LOCAL SPECIALTIES. WHAT I LIKED MOST ABOUT YOUR HOMETOWN WAS THAT THE ATMOSPHERE THERE WAS FRESH AND CLEAN AND THE PEOPLE (IN YOUR HOMETOWN) WERE REALLY FRIENDLY AND HELPFUL. In addition, I hope you will accept my apology for not writing to you earlier because since I came home, I have been very busy preparing for my final exam. I've JUST taken it, so I'd like to invite you to come and stay with me for a few days next month. I want to introduce you to my parents and show you some places of interest in my h
...
Xem thêm
In our modern times, the increase in the price of petrol is always a very controversial issue. Some people believe that it is the best solution to growing traffic and pollution problems. Others, however, have a completely different point of view that increasing the petrol's price has a bad influence on people's lives. In my opinion, this has both sides.

First, the growth in the price of petrol may bring about some benefits. When the petrol's price goes up, people may spend less money on it. Also, they may use some more economical vehicles instead of cars or motorbikes to go to work or study, such as bicycles or buses. There may be less traffic and vehicle exhaust on the street. As a consequence, the adverse effect of growing traffic and pollution may be partly reduced.
However, the increase in the price of petrol also has a negative impact. It may lead to the rise in the cost of transportation and delivery, thus resulting in the rise in some other goods' prices. This may make poor people find it harder and harder to live within their means because they cannot afford their expenses.
In conclusion, increasing the price of petrol has both positive and negative influences on people's lives. However, personally, I think that its advantages outweigh its disadvantages, and that the governmen
...
Xem thêm
Topic:
Some people think that they can learn better by themselves than with a teacher. Others think that it is always better to have a teacher. Which do you prefer? Use specific reasons to develop your essay.
In our modern times, some people believe that they can study well on their own and without a teacher. Others, however, think that it is always better to study with a teacher. In my opinion, teachers play a very important part in our success. The reasons are given below.
First of all, studying with a teacher may be funnier and more enjoyable than studying alone. A friendly and humorous teacher may make us feel more interested in studying. Also, we may not feel bored and tired when we have to study continuously for long hours every day.
Secondly
, teachers may be our best companions. Since they are well-trained and knowledgeable, they may give us many helpful pieces of advice. In other words, we may overcome our problems much more easily with
...
Xem thêm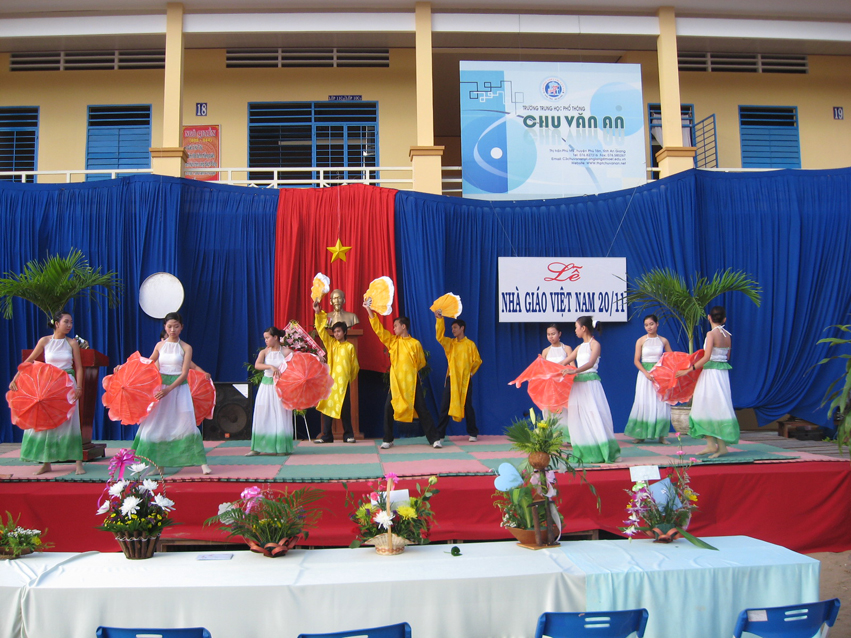 Among many festivals celebrated in Vietnam, Teachers'Day is a special day for teachers.I t's always celebrated on a fixed day in November. It's the 20th of the month.It's been celebrated in Vietnam for many years to show respect

and love to teachers.On this occasion, schools often have meetings for teachers and talks about Teachers' Day .Students often give their beloved teachers flowers and beautiful wishes . I myself enjoy the festival very much as / because

it's a chance for friends to gather and visit our teachers. We always have a great time.
Time goes by as quickly as a dog runs ( my own sayings ). The nearer Tet is coming, the more I miss about the 2009 Tet. Looking at the old picture above reminds me of what we had last year . I remember that It was about 5 days before the Tet that I, Mr Bao, Mr long, Mr Khoa and Mr Van had a drink at Hai San pub, then we suggested some plans for welcoming the lunar new year 2009. The first thing we did was that we had to contact our old friends of the same school year 1994-1995. After that we suggested some activities to do on Tet days; On the 5th day of the Tet we gathered at Quyen's house and at about 8 we rode our motorbikes to our old teacher's house. We had a warm party there .We really had so many good memories we have always rememberered and will always remember. Now Everything seems to come back to me when the lunar new year 2010 is coming nearer and nearer. Happy New Year to all of you, my friends
For 15 years, we've drifted here and there
For a better life we've worked moil and toil
For good memories we come back to school
And a sweet home we've forgotten since we left school.
( This article is for the students of the school year 1994-1995, Phu Tan high school )

By Mr NTĐS